Entry and immigration requirements
Upon arrival at Princess Juliana International Airport (Dutch side) all passengers must present a FULLY COMPLETED immigration form. These forms are generally handed out in the plane before landing.
It is ESSENTIAL that you know the precise address of your accommodation on Saint Martin before you arrive.
french citizens
French citizens flying into Princess Juliana International Airport (SXM), on the Dutch side, must be in possession of a valid passport and a return ticket or continuing ticket.
French citizens flying into Grand-Case airport, on the French side, may enter on a valid French identity card.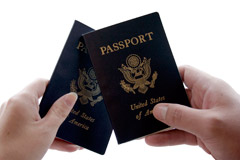 eu nationals
EU nationals arriving into Grand Case Airport must be in possession of a valid passport, official French identity card or French residency card (carte de séjour). Visas are not required.
us and canadian nationals
US and Canada nationals must be in possession of a valid passport and a return ticket or continuing ticket. Naturalised citizens must present an original naturalisation certificate with an identification photo.
other countries
Travellers from other countries must present a valid passport and a return ticket or a continuing ticket.
Nationals from the following countries require a visa to enter Saint Martin (in alphabetical order):
Afghanistan, Albania, Algeria, Angola, Armenia, Azerbaijan, Bahrain, Bangladesh, Belarus, Benin, Bhutan, Bosnia, Botswana, Burkina Faso, Burundi, Cambodia, Cameroon, Cape Verde, Central African Republic, Chad, China, Colombia, Comoros, Congo, Côte d'Ivoire, Cuba, Democratic Republic of Congo, Djibouti, Dominica, East Timor, Ecuador, Egypt, Equatorial Guinea, Eritrea, Ethiopia, Fiji, Gabon, Gambia, Georgia, Ghana, Grenada, Guinea, Guinea-Bissau, Guyana, Haiti, India, Indonesia, Iran, Iraq, Jamaica, Jordan, Kazakhstan, Kenya, Kiribati, Kuwait, Kyrgyzstan, Laos, Latvia, Lebanon, Lesotho, Liberia, Libya, Madagascar, Malawi, Maldives, Mali, Marshall Islands, Mauritania, Mauritius, Micronesia, Moldavia, Mongolia, Montenegro, Morocco, Mozambique, Myanmar (formerly Burma), Namibia, Nauru, Nepal, Niger, Nigeria, Northern Mariana Islands, North Korea, Oman, Pakistan, Palau, Palestine, Panama, Papua New Guinea, Peru, Philippines, Qatar, Russia, Rwanda, St Christopher (St Kitts) & Nevis, Saint Lucia, Saint Vincent, Salomon Islands, Samoa, São Tomé and Príncipe, Senegal, Serbia, Seychelles, Sierra Leone, Somalia, Sri Lanka, Sudan, Suriname, Swaziland, Syria, Taiwan, Tajikistan, Tanzania, Thailand, Togo, Tonga, Trinidad & Tobago, Tunisia, Turkey, Turkmenistan, Tuvalu, Uganda, Ukraine, United Arab Emirates, Uzbekistan, Vanuatu, Vietnam, Yemen, Zambia, Zimbabwe.
There are no immunisation requirements.
domestic pets
Pets older than three months may be admitted on presentation of an up-to-date declaration of health issued by your vet and an up-to-date vaccination record (in particular for rabies vaccination).
It is essential that you consult your airline for information on transport conditions and requirements.
Travelling between St. Martin and St. Maarten
There is no physical border between the French and Dutch territories and people and goods may travel freely between the two sides of the island.
Custom formalities
upon arrival...
St. Martin/St. Maarten is a duty-free port and there are no particular customs procedures. Products for personal use (tobacco, cameras and video cameras, etc.) are permitted in small quantities without being subject to specific procedures or taxes.
on departure...
Although many other tourist destinations claim to be "duty-free", Saint Martin is the only destination in the French West Indies that can truly claim to a tax-free status. With no customs duties, VAT or other indirect taxes to pay, the island offers unbeatable prices on a whole host of items.
Consult the authorities in your country to find out the conditions for taking these items back home after your visit.
EU residents visiting Saint Martin or Saint Barths benefit from the following allowances: for travellers aged 16 years and over, 200 cigarettes (or 100 cigarillos, or 50 cigars), 2 litres of still wine, and 1 litre of spirits or liqueurs of over 22 of alcohol or 2 litres of drinks under 22 of alcohol. Fragrances: 50g eau de parfum or 50cl eau de toilette. Other goods up to €183; above this amount, VAT becomes payable on the full amount.
Amounts mentionned above cannot be added up. These elements are subject to change thus seeking direct advice from the customs authorities in your country is advised.